Construction Customer Service is a leading nationwide service provider working in the construction industry. We arrange diverse CITB Tests (Health, Safety and Environment Test for various Trades), organise various Construction relates Courses, like HSA One Day Course, SSSTS, SMSTS and different Constructions Courses . We also help various individuals and groups in acquiring right Construction Cards according to their prevailing roles in the Construction Industry.
This Construction Green card is valid for 5 years and is for laboring work. People without NVQ/SVQ and other construction qualifications can apply for this card.
In order to obtain this card, you need to pass Operative CITB Health, Safety & Environment Test and also complete One Day Health & Safety Awareness Course or Level 1 Award Course in Health & Safety.
Our professional and highly-trained Customer Service Team is here to advise you on how to get a right Construction card as per your trade.
Why Choose Us ?
Nationwide Service and Centers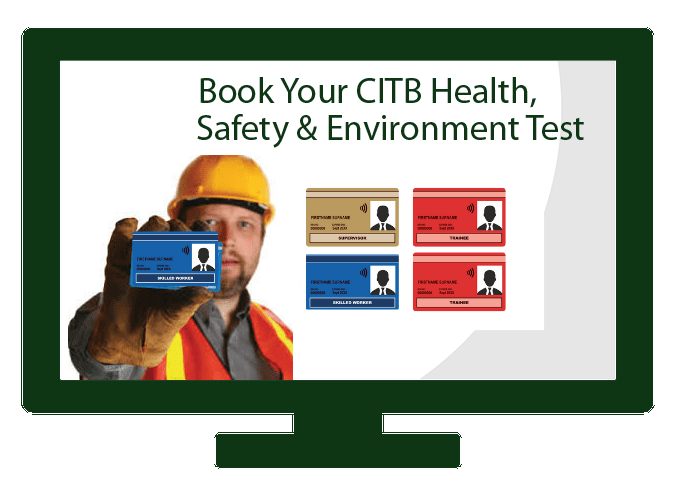 Our Work
We get you the right Construction Card according to your Trade.
We provide Samples and Revision Material for Course & Test.
Nationwide Service and Centers.
We provide Email and Phone confirmations.
Group Bookings discounts.
Best prices GUARANTEED.
100% Safe Construction Cards Delivery
Courses We offer
Health, Safety and Awareness Course (One Day Course) For Green Labourer Card 5 Years
Level 1 Award in Construction Environment Course For Green Labourer Card 5 Years
NVQ Level 2, 3, 4 and above to get Skilled Blue, Gold and Black Construction Card
1 Day Emergency First Aid Course
3 Days First Aid Course
COTS Course for Scaffolders
Fire Marshall Course
Traffic Marshall Course
Site Supervisor Safety Training Scheme (SSSTS Course) 2 Day Training Course For Supervisors
Site Management Safety Training Scheme (SMSTS) Course 5 Days Training Course For Managers
To book the desired Course, click on Choose Courses or simply Call Us for more information.
Save Time & Money On Group Bookings
Get the discounts on our Group Bookings Package for any number of Delegates. Its simple, fast & convenient.
Group Bookings
Individual Booking
Book your preferred CITB Health, Safety & Environment Test Nationwide as per the Construction Card you need.
Book Now